The day guillotinelove.com went live, markplati.com went off the net. I pulled the page in question out of google's cache; if his site comes back I'll link back to it again.
---
[10/17/00]

Ziggy Lands on 6th Street

We took a break from the initial tracking sessions of the next Bowie album - the working (and most likely permanent) title of which is 'Toy' - at the end of July 2000, as David and Iman were anticipating the arrival of their first child and David wanted a couple of months off before finishing it. For this record, we pretty much just bundled the live band into Sear Sound in New York, set everyone up, and let rip. A number of the songs had been rehearsed, so we were somewhat prepared this time. The idea was to keep it loose, fast, and not clean things up too much or dwell on perfection. As a result, we had 13 basic tracks cut in around 9 days. In this period we managed a few overdubs on each tune, including Tony Visconti conducting a 14 piece section for the string arrangements he did on two of the songs.

In the break I managed to fit in a couple of other projects as well as upgrade my hard disk recording system. There were a few glitches during the basic tracking at Sear, and I really had to deal with some of the computer hassles before resuming work on this - or any - record, Indeed, it had been quite a test of how much my psyche would accept before imploding. For example, during the string session the computer crashed in the middle of a take. Since screaming wasn't an option with a room full of musicians and artistes, I had to find other ways of dealing. Like pacing....

And while on the topic of the computer, it seems that of late I've been involved in the ol' analog vs. digital debate with both fans and colleagues. At this point I'd have to put myself in the digital camp as the editing potential is just unreal, which I've found has allowed a LOT more to happen creatively, at least for me. The 1% of people who are the audiophiles, the purists, and those who still buy vinyl when available generally hate guys like me, but I offer no apologies. Such as it is ..... it was definitely the right choice for this record, even with the problems we encountered.

Also during this break, I happened to catch the Eels at the Bowery Ballroom. Pete Keppler, who engineered the tracking of 'Toy', is also their live sound engineer, and he clued me in to the gig. Those who know me know that I love this band (listening, E?) and I'm quite a fan. I'd heard they expanded the band a bit for this tour, so I was curious. One of the new additions was the multi-instrumentalist Lisa Germano, who was playing violin, recorder, keyboards, mandolin, guitar, and singing (if there's anything I forgot, someone let me know). After listening to a few songs, and being familiar with some of Lisa's solo records and her work with other artists (John Mellencamp and Sheryl Crow among others) I knew I needed to get her on the Bowie album - her vibe would be just perfect for it.

(Interestingly, like Kenny Aronoff, Lisa Germano was another Indiana musician that I'd never met while I attended IU in the early '80's. We seemed to have been in a number of the same circles in those days, but it just didn't happen .... )

My initial idea was to get Lisa to come to my home studio either after the Eels gig or the following day, just to put a few things down so I could give David an idea of what I was thinking, but circumstances wouldn't allow that. Instead, I pitched my idea to David, and Lisa got him some of her CD's. After a week or so, we decided to go for it. The next question was where. I figured I'd try to do the session in my home studio, as I'd been working there with a number of people who all seemed to like it. Lisa was really comfortable with the idea, preferring my house to a commercial studio - she'd done a number of her own records at home.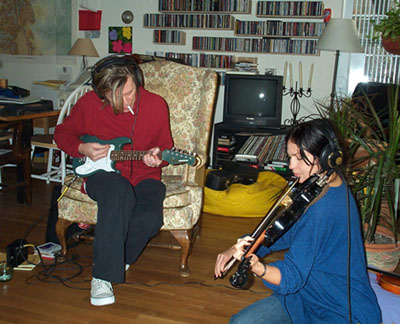 Bowie and Lisa @ my place



So, the travel plans were coordinated and I prepared the studio for the session in late September (which consisted of buying coffee and tidying up a bit). At first it seemed odd having such high profile folks sitting on my goofy Ikea couch, playing with my daughters' toys, or combing through my fr idge for the milk - David poked fun at the candles, and the seashells I use for ashtrays - but they both loved it, especially the deck. So I put on the kettle, and we zipped through a number of songs the first day. Lisa really took to the material, putting down all sorts of parts on an arsenal of eccentric instruments, including an electric violin tuned one octave lower than usual, a 1920's Gibson mandolin, and an old, tiny tortoise shell blue-green Hohner accordian with a strap so old and tired we had to beg it to stay together (assisted by duct tape) for the duration of a song.

David was completely into these sessions - we worked at my place for two days this time - as he'd not done any work on the album since August, nor listened to it much. He seemed just plain READY to work, and he was thrilled with how great and fresh the songs were.

It was a lot of fun, and very exciting - David kept pulling ideas out of the air for Lisa to play, and it was great to see how well they got on and how musically in sync they were from the first few minutes or so. For me as a record producer, Lisa could be one of my more inspired choices as far as an ouside musician I've brought in to work on a project: it worked out much better than I could have imagined (I figured it'd work, but not THIS well) as her playing - especially violin - was simply magical and made some of the songs truly complete. It was as if she was a part of the band from the conception of the record, and not grafted on afterwards.

We went out for lunch and had a good walk around the neighborhood as well. Neither of them are regulars in the East Village, so they were quite surprised and impressed by the not-so-recent transformation of the neighborhood - I think both of them still had the late '80's vision of it as junkie/anarchist hell - and the good weather and the nice Italian cafe next door only helped matters. We decided to continue working out of my studio to do vocals and other small overdubs (anything but drums) before mixing the album in late October.